View all posts
Scam Alert: Fake Amazon Crypto Presale
01/06/2022
By: Jocelyn Wood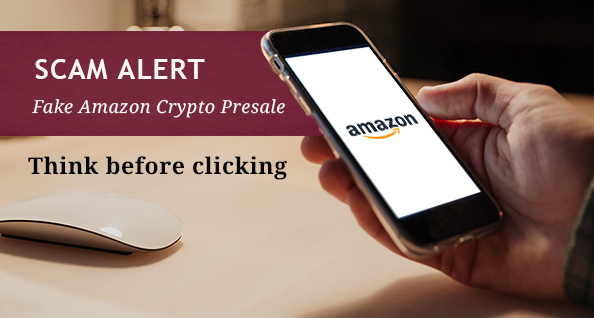 There is a growing interest in cryptocurrency and scammers are taking advantage of the misunderstandings surrounding the digital currency, like the recent fake Amazon token presale scam.
It started with a rumor that Amazon may create its own cryptocurrency, with no confirmation from official sources. That doesn't stop cybercriminals from running social media ads spoofing well-known news sites claiming that Amazon has opened presales for their cryptocurrency.
The ads link to a fake Amazon site outlining the details about the token release, Amazon Prime integration and a countdown to the presale end date. If you attempt to buy an Amazon token, you will be sending your money straight to the cybercriminals and receive nothing in return. This information comes from a release by KnowBe4, a leader in security awareness and training solutions.
KnowBe4 suggests these tips to protect yourself:
Be skeptical of cryptocurrency advertisements and posts on social media.
Before clicking an ad, hover over the link to preview where the link will take you. For example, one Amazon Token ad led to amz-token[dot]presale-tokens[dot]cc. This address is not a legitimate website, because it is not using the official Amazon[dot]com domain.
Don't fall to high pressure tactics that claim "Flash sales", "only a few left", "purchase immediately."
Watch for poor grammar and misspellings. While the fake Amazon Token website looked great, it had a number of errors, such as "TOKENS AVAILABLEN" and "You can contribute AMZ token go through Buy Token page."
Cryptocurrencies have a range of different origins, structures, and intended uses. Before investing in a coin, do your research about that coin by reviewing multiple well-known and trusted sources.
Read KnowBe4's full blog post, Amazon Token Crypto "Presale" Scam Takes Advantage of News Hype and Steals Your Real Cryptocurrency (knowbe4.com)