Security Bank Rides to Help Save Lives
October 2021
Security Bank is raising funds to support the American Heart Association / American Stroke Association (AHA) in their efforts to stop the cycle of stroke and heart disease.
A team of eight Security Spinners will ride at CycleNation, taking place at 6 p.m. Friday, October 29 on Cherry Street.
Every 4 minutes someone dies of a stroke. And heart disease is the leading killer of Americans. Stroke and heart disease are serious business, but the way we fight back doesn't have to be. Stroke is 80% preventable and American Heart Association is ready to take action for better health and more research.
CycleNation is getting our sweat on to help our community take control of our brain health. And the impact you have when you ride with CycleNation will make you feel all the feels.
Please join us in supporting our local American Heart Association / American Stroke Association organization.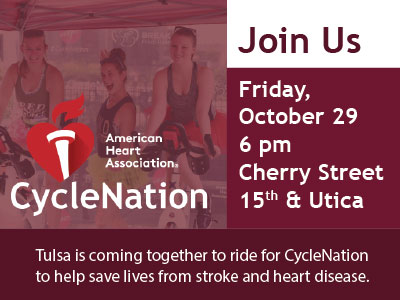 ---
Security Bank Raises Money for Make-A-Wish
October 2021
Security Bank employees raise $2,500 for Make-A-Wish during a parking lot combat fundraiser. During the parking lot combat, Security Bank auctioned off six prime real estate parking spaces to the highest bidders. Employees also had a chance to purchase reserve parking spaces for their use for the next three months. All proceeds during the parking lot combat benefited Make-A-Wish and help grant a child's wish who has been battling a life-threatening illness.
"The generosity demonstrated by our employees is truly remarkable," said Dawne Stafford, Security Bank CEO. "They are always up for a challenge to give back to the community and support local organizations. We are proud to assist in fulfilling wishes for Wish Kids in the Tulsa area, as they fight critical illnesses."
Security Bank's donation is in time with Make-A-Wish's upcoming KRMG Stories of Light campaign, taking place at LaFortune Park November 16-18.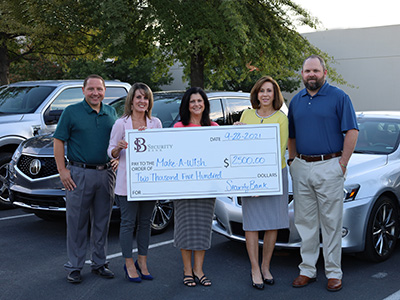 ---
Rooster Days, Broken Arrow, May 2019
Security Bank helped volunteer at the annual Rooster Days Festival in Broken Arrow.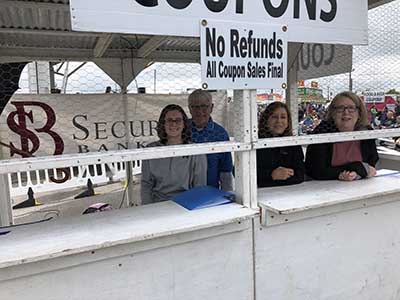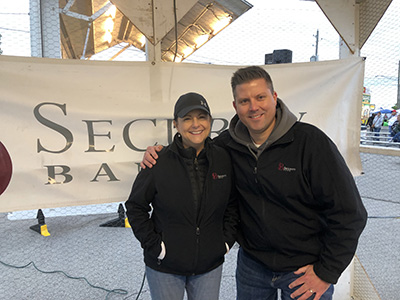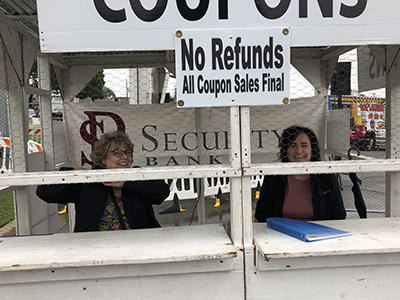 ---
Tulsa Go Red for Women Luncheon, May 2019
The American Heart Association held a wonderful event to promote heart health awareness for women. We support and share in their efforts!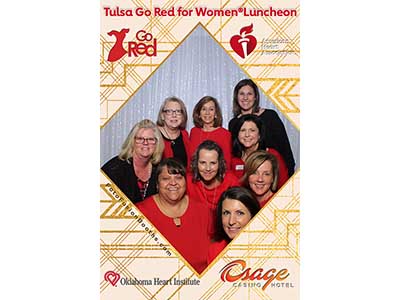 ---
7th Annual Links to Independence Golf Tournament, May 2019
We had a great day and were proud to help sponsor Ability Resources' Links to Independence Golf Tournament! This non-residential center advocates for individuals with disabilities and assists them in being able to live independently.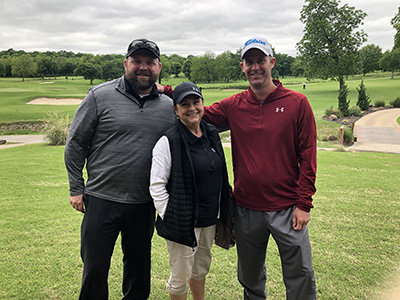 ---
24th Annual TARC Shot in the Dark Golf Tournament
May 2019
Even though we did not get the opportunity to play some golf in the dark due to rain, we had a great time at the TARC Shot in the Dark event! TARC is committed to ensuring a high quality of life for individuals with developmental disabilities and their families through education, empowerment, support and advocacy.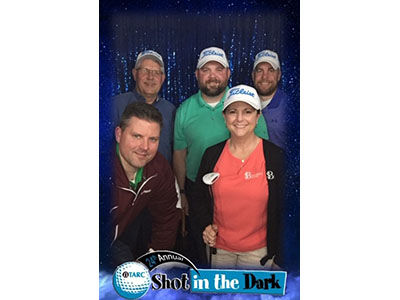 ---
County Treasurers of Oklahoma Association, April 2019
Mindi and Ryan enjoyed visiting with Oklahoma County's Treasurers and their staff in Stillwater at their annual conference. Even while working, Bedlam rivalry can be found!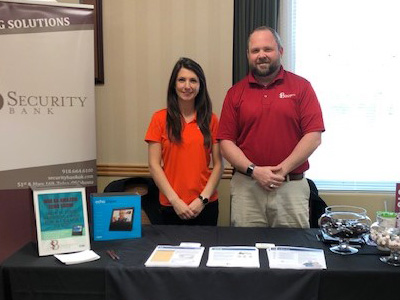 ---
American Heart Association Heart Walk, April 2019
Had a great time supporting the American Heart Association at the Heart Walk! Our team raised $2,945!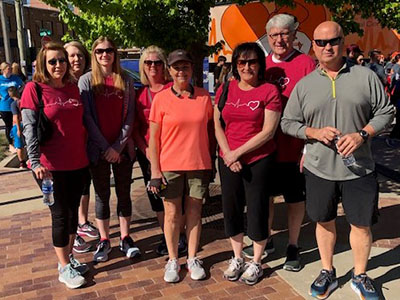 ---
Tulsa Public Schools Partner of the Year Awards, 2018
We were honored with the Champions Award at the Partners in Education Tulsa, Partner of the Year Awards, on May 7th. Special thanks to our partner school Cooper Elementary!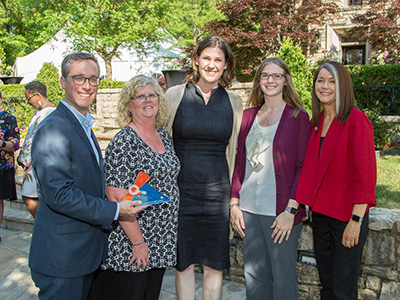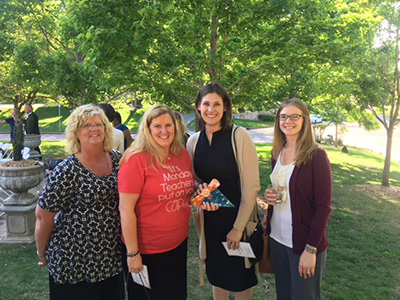 ---
Bowl For Kids' Sake
We raised over $3,400 for Big Brothers Big Sisters of Oklahoma for the annual Bowl for Kids' Sake event.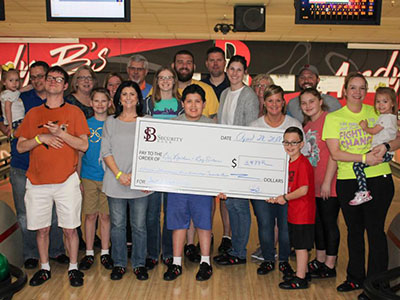 ---
Cooper Elementary Test Monitoring
We love to support our local schools and teachers! A great group of bank volunteers helped out with test monitoring at Cooper Elementary School.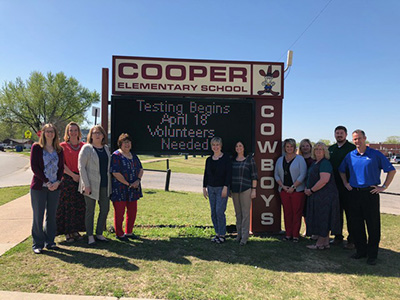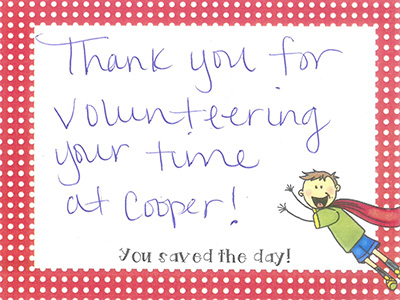 ---
Tulsa Public Schools Fun Run
Security Bank employees and families enjoyed a Saturday morning fun run, supporting the Tulsa Public Schools – School Pride Race and Wellness Festival.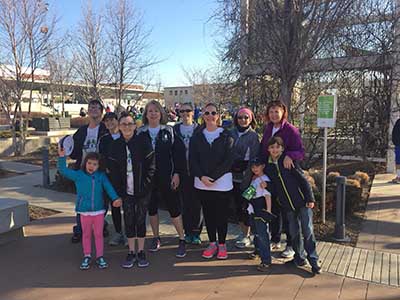 ---
ABC Contractors Showcase Tulsa
Cheryl, Paul, and Julie helped showcase Security Bank during the tradeshow.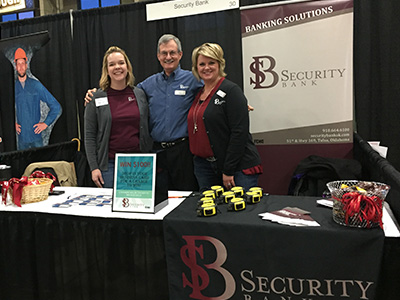 ---
Tulsa Go Red Day for the American Heart Association
Showing support for National Wear Red Day to help raise awareness of heart disease.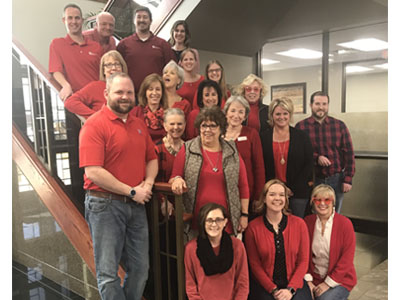 ---
Salvation Army-Day of Ringing
Security Bank Employees enjoyed volunteering for A Day of Ringing with The Salvation Army Tulsa, OK.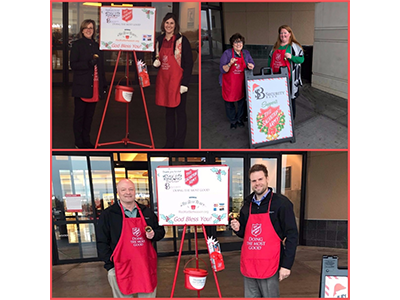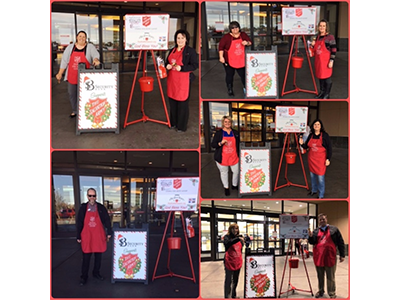 ---
Bedlam Baskets
51 Thanksgiving Baskets were raised and donated to John 3:16 Missions through a friendly Bedlam Competition.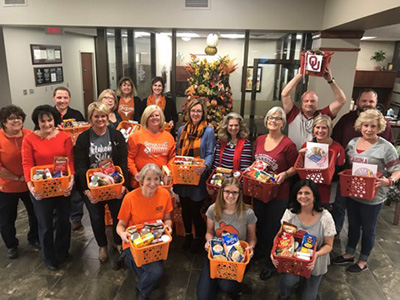 ---
JA in a Day
Security Bank volunteers through Junior Achievement to be 3rd grade teachers for a day teaching students at Cooper Elementary School about how a city operates.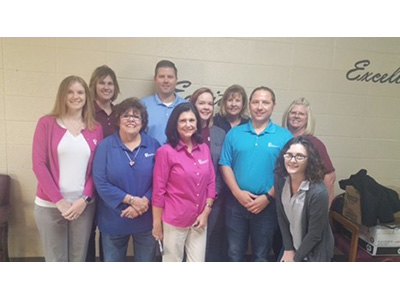 ---
Susan G. Komen Race for the Cure
Security Bank Stompers went above and beyond and raised $19,684 for Susan G. Komen Race for the Cure.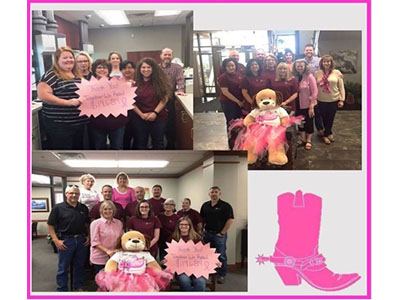 ---
Security Bank Raises Supplies for Houston Schools
Nothing like a friendly "Kiss the Pig" competition to raise school supplies for Houston Schools that were affected by Hurricane Harvey. 1,687 Items were donated.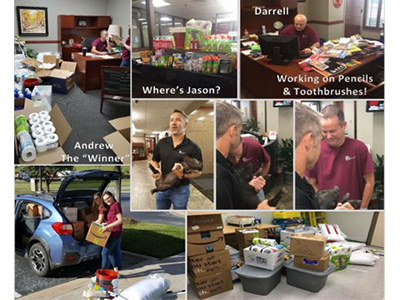 ---
Susan G. Komen Race for the Cure
In 2012, Security Bank formed the "Security Bank Stompers" team and joined the Susan G. Komen Race for the Cure which is the world's largest and most successful education and fundraising event for Breast Cancer. For several months leading up to Race Day we participate in a number of fundraising events in order to meet our fundraising goal. It is through donations and the involvement of both our employees and our customers that we are able to attain our goal each year.
Our employees participate in a variety of activities, some of which include a pancake breakfast, bingo, and Fun Footwear Fridays. In addition, our customers generously make donations into our "Collection Boots" and participate in many other fun activities such as Food Truck Friday.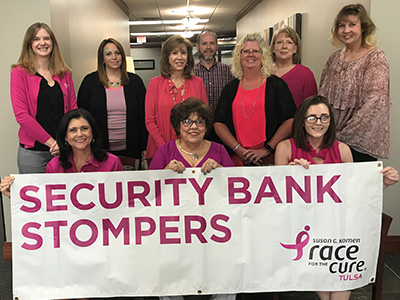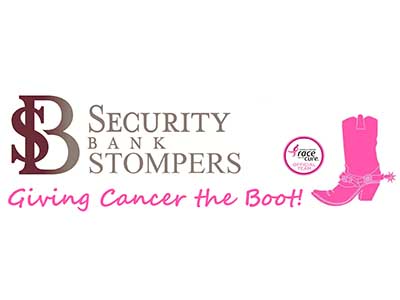 ---
Flying Tee
Security Bank customers enjoy a day of golf at Flying Tee, sponsored by Security Investment & Retirement Services.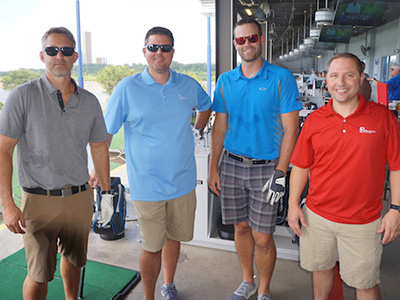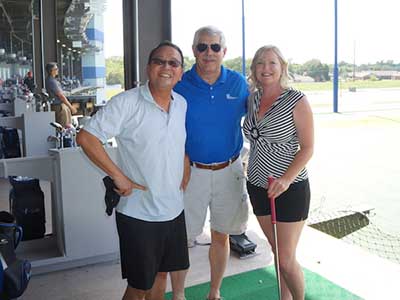 ---